What is a Whole Home Generator
A whole home generator, also referred to as a whole house generator, provides reliable backup power during outages, ensuring your essential appliances, systems, and electronics stay on. It can be operated on solar, propane, or natural gas, making it a convenient and stress-free solution for your home application. A generator for houses automatically switches to backup power within seconds, providing uninterrupted power for critical systems. Investing in a whole house generator gives you peace of mind during power outages.
Benefits of Whole
Home Generators
Reliable Power
Investing in a whole home generator guarantees your home's power supply, giving you and your family peace of mind during outages.

Convenient
Whole house generators offer superior backup power compared to portable generators, with convenient fuel options, permanent installation, and advanced features like smart remote monitoring.

Installation-free
Whole house generators that require no installation offer the convenience of backup power without the hassle of setup and permanent placement.
How to Choose
a Whole House Generator?
When choosing
a whole house generator, consider: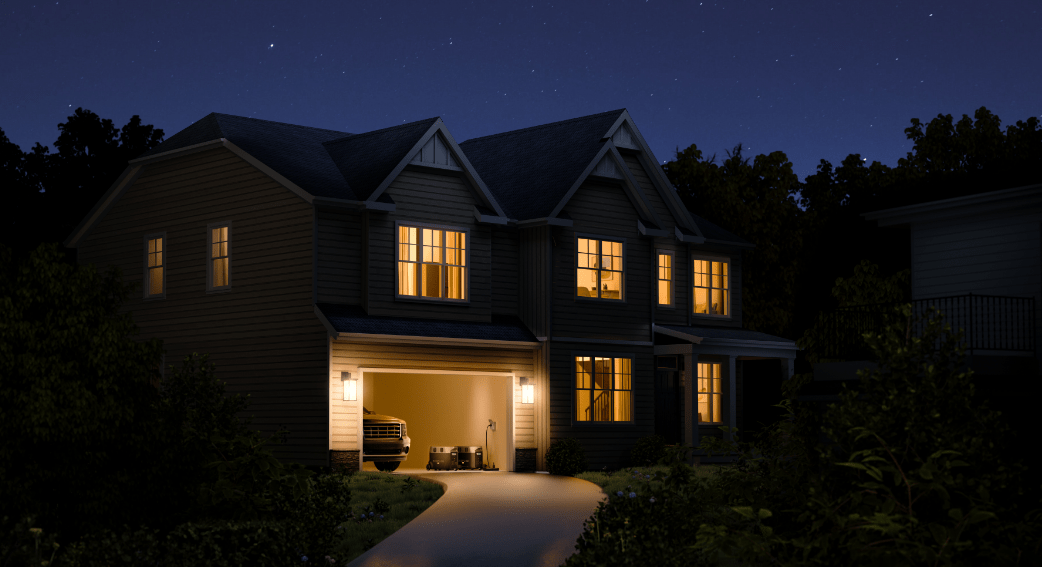 Fuel source
Choose a generator that runs on a readily available fuel source, such as solar.
Power needs
Pick a generator that can support the actual power needs of your home.
Cost-effectiveness
Choose a generator with a good balance of power and affordability,with low operating costs.
Peace of mind
Pick a generator with automated operation and a maintenance-free life,for seamless power during outages.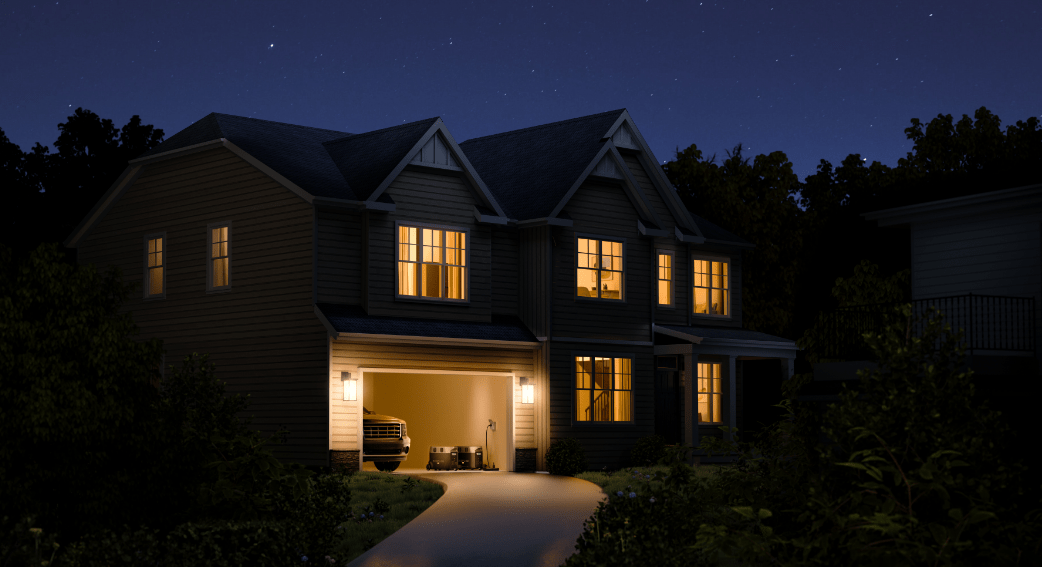 Types of Home Backup Solutions
If you're considering a whole home generator, there are three main types to choose from: gas generators, solar generators, and home battery systems. Each offers unique advantages depending on your specific needs and preferences.
Gas generator
A gas generator uses natural gas or liquid propane to generate electricity for homes and businesses during power outages.
Pros:
Readily available fuel source.
Typically less expensive.
Run for extended periods.
Cons:
Requires fuel line installation.
Fuel shortage impact.
Solar Generator
An environmentally friendly generator that utilizes solar energy to produce electricity for homes and businesses during power outages or other power interruptions.
Pros:
Eco-friendly, no emissions.
Quiet and maintenance-free.
Uses sustainable, free fuel.
Cons:
Requires sufficient sunlight.
Home Battery
A home battery stores excess electricity generated by solar panels or utility grids to provide backup power during outages and optimize energy consumption.
Pros:
Backup power during outages.
Reduce electricity bills
No noise pollution, or fumes.
Cons:
Higher upfront cost.
Limited energy storage capacity.
Needs a compatible inverter system.
EcoFlow Whole
Home Generator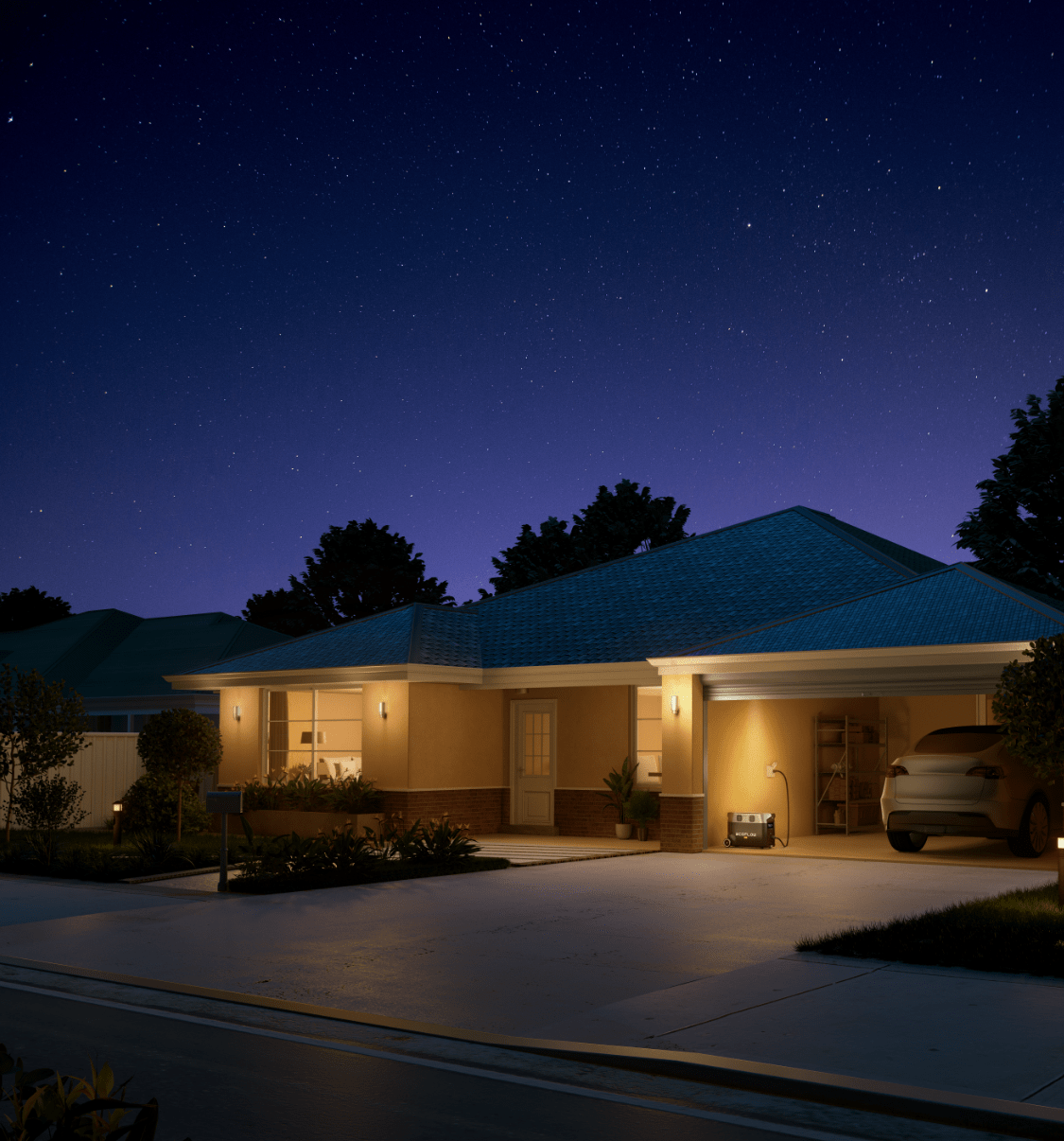 Why Choose EcoFlow
At EcoFlow, we offer reliable, easy, affordable, and cleaner power solutions for your home. Our solutions are designed with user-friendly features, a low noise level, low maintenance, and plug-and-play capabilities, making us a smart choice for homeowners. From advanced safety features to efficient energy utilization, our whole house generator solutions perfectly combine performance and convenience. With a focus on sustainability, choosing EcoFlow means making a responsible decision for you, your family, and the environment. Trust us for your home's backup power needs and enjoy peace of mind during power outages.
EcoFlow Whole Home Generator

Gas Generator

48~60db (1m)

75-120db (7m)

3.6-26kwh

9kwh/L (Diesel)
8kwh/L (Natural Gas)

No pollution

CO/ Hydrocarbon/ Oxynitride, etc

Indoors or Sheltered outdoors

Outdoors

No need for maintenance. Charge it from AC, solar, DC, car when needed.

Requires regular maintenance. Changing the filters, the spark plugs and clean the crankcase breather.
Frequently Asked Questions
Is it worth getting a whole house generator?
A whole house generator ensures that you and your family have energy security when a power outage strikes. With extreme weather events becoming more common and the aging power grid becoming increasingly unreliable, there has never been a better time to invest in a whole house generator. You can also save on your electricity bills over time — or even eliminate them completely with clean, renewable solar power.
What is the cost of a whole house generator?
Can the EcoFlow whole home generator run on renewable energy sources?
Can a portable generator power a whole house?
What kind of fuel does the EcoFlow whole house generator run on?
How often do I need to perform maintenance on my EcoFlow whole home generator?
How big of a generator do I need to run my whole house?
Is the whole house generator from EcoFlow easy to install?
What happens if there's a power outage while I'm away from home?
What is the expected lifespan of an EcoFlow whole house generator?