Compact, rugged, and ready for all your off-grid energy requirements
EcoFlow RIVER 2 Series portable power stations are compact, rugged, and ready for all your off-grid energy requirements. Whether you're backpacking, camping, or heading off-road with your RV, there's a RIVER 2 portable power station to give you all the energy independence you need. Charge and run your personal electronic devices, small appliances, and more. RIVER 2 is the ultimate portable recreational power solution.
LIGHTWEIGHT &
PORTABLE
EXPANDABLE
CAPACITY
POWER MULTIPLE
DEVICES
RIVER 2
PORTABLE POWER STATIONS COMPARISON
THE BEST
COMPACT
PORTABLE POWER
STATION.
RIVER series are all small portable power stations. They're easy to carry or throw in your trunk. Whether it's the smallest model, RIVER mini, or the largest RIVER Pro, they can all be held with one hand.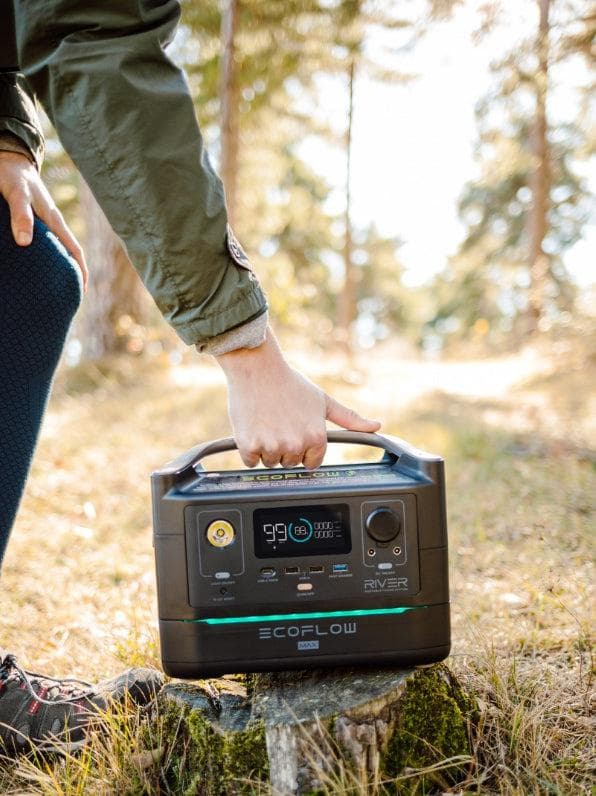 THE BEST COMPACT PORTABLE POWER STATION.
Fast charge in a flash.
All RIVER series power stations can fast charge to 80% via an AC wall outlet in under an hour. Heading camping? Try plugging in a solar panel to charge up via the sun to use yours as a solar generator. In an RV or on the road? You can top up using a car charger, too.
Power all your devices.
With EcoFlow's proprietary inverter technology, the EcoFlow RIVER outputs up to 600W (1800W surge), meaning you've got quiet outdoor power equipment for most of your appliances. Ideal for camping trips or even off-grid living. Place your RIVER on a tabletop and you can power up to 10 devices at once with a plethora of ports.
Expandable capacities
All but RIVER mini can be expanded in capacity with an extra battery. Ideal for when you're on longer trips. Just plug in or screw on your extra battery and you've doubled the capacity of your portable power station.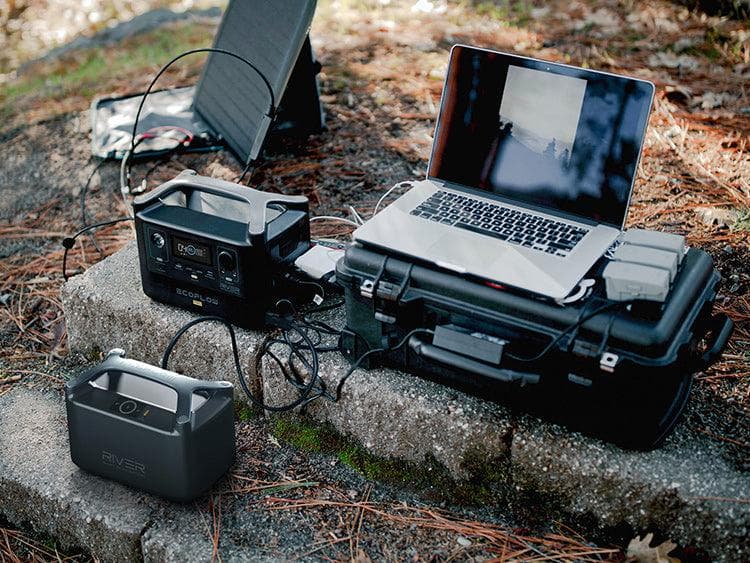 RIVER 2 portable power stations give you all the off-grid electricity you need in a build so lightweight and compact you can carry it in one hand. Whether your next outdoor adventure involves backpacking, hiking, camping, or RV living, there's a RIVER 2 series portable power station that's the perfect fit. For the ultimate in convenience, install the EcoFlow app on your smartphone and get real-time monitoring and control from anywhere with an internet signal.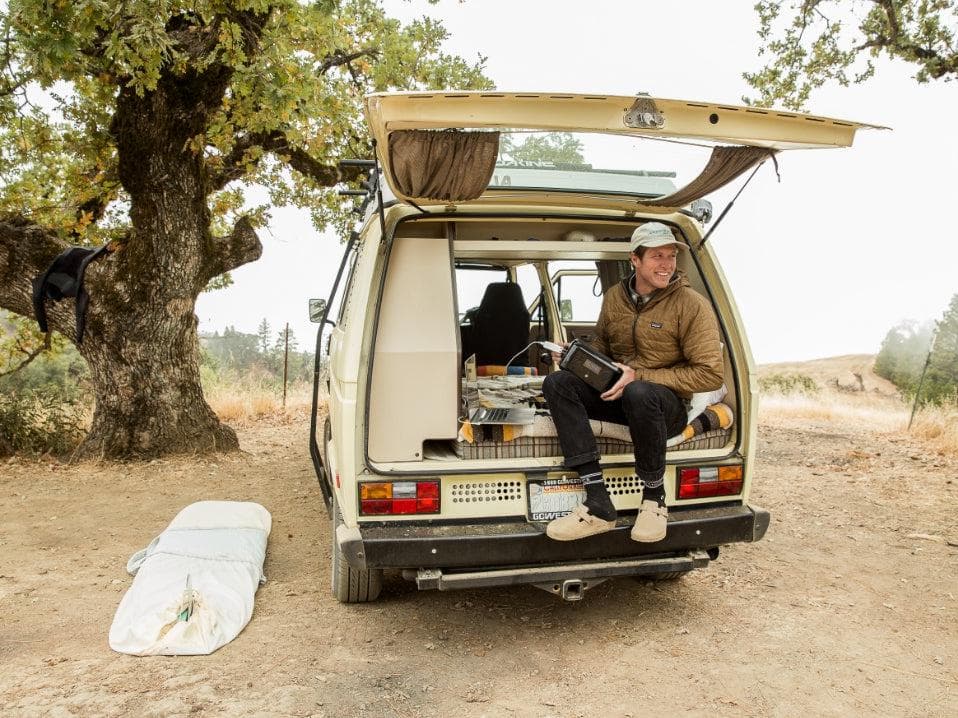 Recharge In a Flash
Every RIVER 2 Series portable power station can go from 0% to 80% charged in less than an hour when plugged into an AC wall outlet. Powered by advanced LFP battery technology, the RIVER 2 just won't quit with a lifespan of 3x typical portable power stations. Add optional portable solar panels and with smart MPPT already built-in, true off-grid energy independence is easily within your reach. You can also recharge using a car adapter or Type-C cable when you're on the road.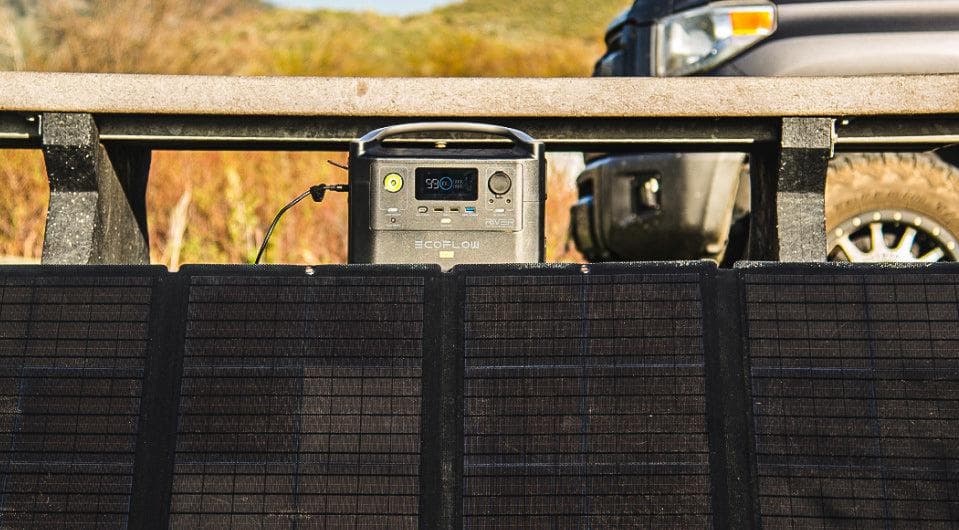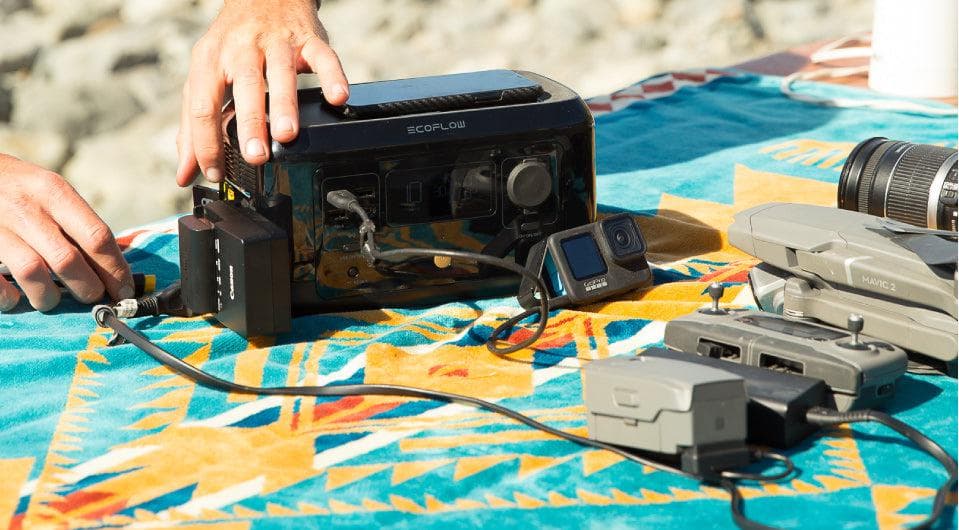 Power All Your Devices
RIVER 2 series portable power stations output from 300W up to 800W (1800W surge) with varying battery storage capacities. The RIVER 2 Pro can power 80% of high-wattage home appliances, offering 1600W of output using X-Boost mode. From keeping your smartphone, tablet and laptop charged, to powering camping appliances, the RIVER 2 Series portable power stations have you covered. Virtually silent and with zero emissions, the RIVER 2 series empowers you to enjoy your time off-grid without the noise, toxic exhaust, and carbon footprint of fossil-fuel generators. You can power up to 10 devices at once with a wide variety of ports, including AC and USB.
Need Even More Off-Grid Power? Go Solar!
From the compact RIVER 2 to the mighty RIVER 2 Pro, the RIVER 2 series portable power stations come equipped with 268 - 756Wh of battery storage capacity. Still not enough for your off-grid portable electricity needs? Add EcoFlow portable solar panels to your RIVER 2 and generate your own clean, renewable solar power — anywhere the sun shines. Every RIVER 2 portable power station has all the components to convert solar power to electricity already built in. Just and plug-and-play with the solar panels of your choice and your portable power station is good to go.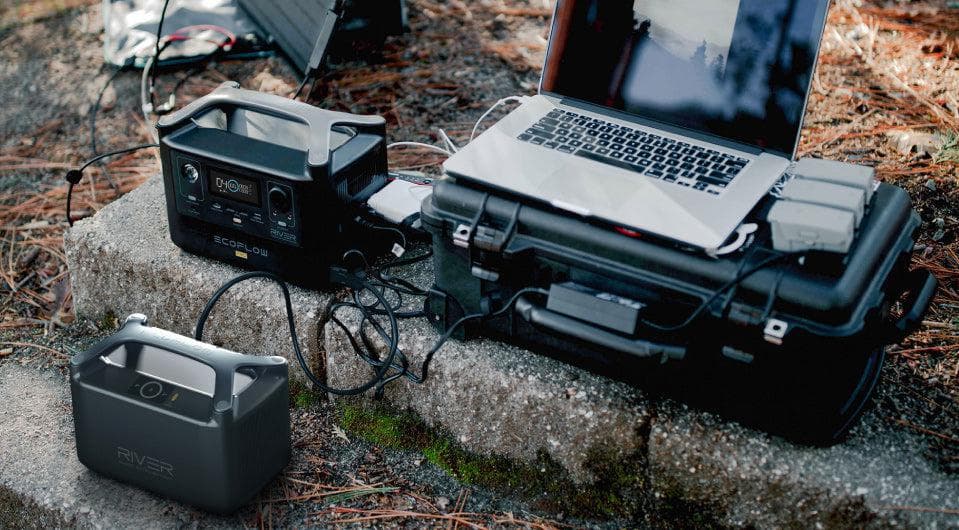 LET'S ANSWER YOUR QUESTIONS
How Long Does the RIVER 2 Portable Power Station Last?
The battery life of the RIVER 2 portable power stations varies between models because each has a different-sized battery. More compact models tend to have lower battery storage capacities. In addition, how long your portable power station lasts depends on its charge percentage and how many devices it's currently powering. Your station will effectively keep going until it's all out of charge. Luckily, the RIVER 2 series can recharge to full capacity in just over an hour using AC power or 3-6 hours using solar. If you run out of juice, you won't have to wait long!
How Long Will a RIVER 2 Run a Refrigerator?
The runtime entirely depends on the power consumption of your refrigerator and which RIVER 2 portable power station you use. The RIVER 2 (256Wh) will keep a 120W refrigerator running for about 3 hours, compared to the RIVER 2 Pro (768Wh), which will keep the same refrigerator running for about 5 hours. The runtime depends on how much power your camping or RV fridge consumes and the PPS capacity.
Can the RIVER 2 Power a TV?
Absolutely, provided it is within the appropriate wattage range. Your RIVER 2 can power any device or appliance you want to use when camping or RVing that falls within its wattage. For example, if you have a TV that consumes 106Wh, the RIVER 2 Pro is more than capable of powering it, as it possesses a 768Wh capacity. As long as the RIVER 2's Wh rating is higher than the device's, it can power it.
What Is the Lifespan of a RIVER 2 Portable Power Station?
The lifespan of portable power stations is usually measured by how many times they can cycle from zero to full charge before performance decreases. The RIVER 2 series lasts about 1,500 cycles before its efficiency declines to 80%. How many years this covers depends on how often you use your power station. The more frequently your power station goes from full charge to zero, the quicker it will burn through its lifespan. On average, your RIVER 2 PPS should last up to 10 years or more without efficiency decreasing.
Should I Leave My EcoFlow RIVER 2 Plugged in All the Time?
You could, but it isn't advisable. While the EcoFlow RIVER 2 is a perfectly safe, compact device, it is still electronic, meaning that while plugged in, it presents risks (however unlikely). The risks associated with electrical devices increases when you keep them plugged in for extended periods, especially when unattended. Whenever practical, all your electrical devices should be unplugged when not in use for extended periods.
Is the EcoFlow RIVER 2 Portable Power Station Worth the Money?
We wholeheartedly believe the answer is yes. RIVER 2 keeps your devices powered whenever you go off-grid. Whether you're camping, backpacking, or RV'ing, a portable power station can provide an essential and compact source of electricity. Given its capacity and longevity, the RIVER 2 series also offers excellent value for the money, lasting many years thanks to the LFP batteries. If you add solar panels to your PPS and use it as a solar generator, you also save on electricity and fuel bills to see a quicker return on investment.
Can the RIVER 2 Power a Heater?
If the heater doesn't exceed your RIVER 2 portable power station's watt hours (Wh), then yes, absolutely! That same rule applies to any other appliance too. If you have a higher-wattage heater that uses 1500W, you can also turn on X-Boost mode on the RIVER 2 Pro and power devices up to 1000W. If you have a large RV or tent for camping, one of the less compact RIVER 2 or DELTA series portable power stations will keep you warm for longer.
What Type of Battery Does the RIVER 2 Use?
The EcoFlow RIVER 2 series uses proprietary LFP (lithium-ion phosphate) battery technology. LFP batteries are highly reliable, compact, fast to recharge, and long-lasting. In addition to all these positive features, LFP batteries can handle far more charge cycles than cheaper lead-acid batteries, meaning you will get many more uses out of your portable power station before needing to replace it.
How Many Solar Panels Does It Take to Charge the RIVER 2?
If you use one of the EcoFlow solar panels, just one! Of course, the more panels you use, the faster your battery will recharge, but just one of our 160W solar panels is sufficient to reach full charge. Alternatively, you could use two of our 110W solar panels for a faster charge by connecting the unit with a solar parallel cable. It will provide a greater total wattage while remaining a compact solution. The 400W portable solar panel is also a great option.
Is the RIVER 2 Portable Power Station Compact Enough to Go Camping?
The RIVER 2 portable power station is the smallest in the RIVER 2 series, and it's small enough to fit in any backpack. At just 7.7 pounds, it's extremely compac, yet still boasts enough output to power 99% of consumer electronic devices. If you're going camping by car or powering an RV, you can get more output from a larger portable power station like the RIVER 2 Pro without sacrificing mobility.
Choosing a selection results in a full page refresh.
Press the space key then arrow keys to make a selection.
Never miss a sale!
Subscribe to get updates on our new products and exclusive promotions